Have you ever had really good paella? Not the generic yellow kind, but the authentic Spanish kind that has been cooked by someone who knows the history of the dish and importance of the ingredients and the paella process.
Real paella is out of this world. But finding a place to eat good paella in Barcelona is sometimes tricky.
That's where I can help you! As I'm a trained paella chef who's lived in Barcelona for nearly 20 years, I've got some recommendations for you. From traditional tabernas to beach-side gems, here's my pick of the best places to eat paella in Barcelona.
Six of the best places to eat paella in Barcelona
Make your own at Savour Academy!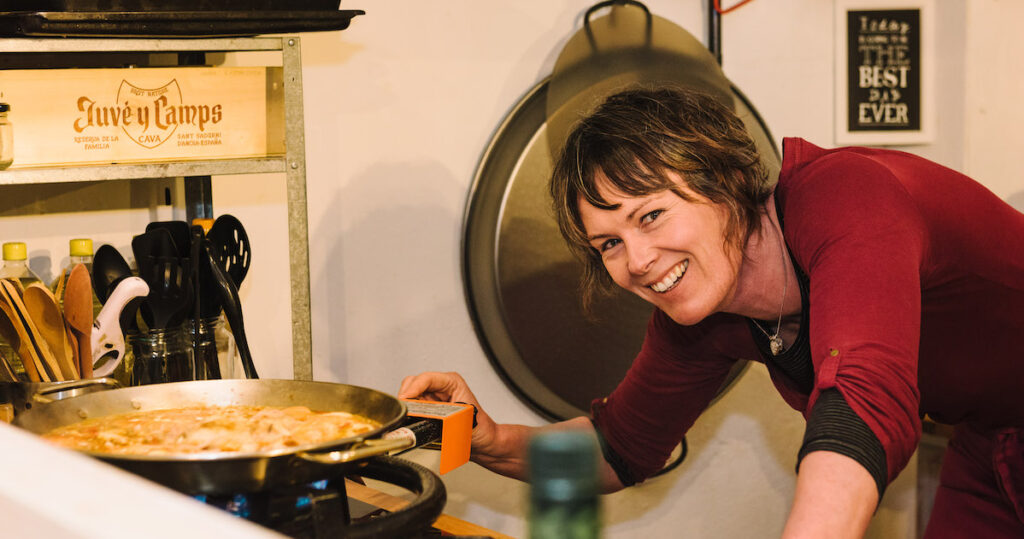 Eating authentic paella in a Barcelona restaurant is one thing. Learning how to make your own… well, that's another thing altogether. I love teaching people how to make their own authentic paella. That's why I set up my very own paella cooking class at Savour Academy.
Every dish has a story to tell. And the story of paella, from its origins to its place as the most iconic Spanish dish, comes out in the flavour! I'll teach you about the origin of paella and the role each ingredient plays in perfecting your paella. Then I'll guide you every as you prepare your own paella from scratch.
Once you've cooked your own paella at Savour Academy, you can take your new skills home, to make this Spanish classic in your own kitchen!
Xiringuito Escribá
When it comes to beach-side paella restaurants in Barcelona, there are a few options. But Xiringuito Escribá is one of the best. Although the Escribà family have been renowned chocolatiers and dessert-makers for generations, they more recently made their move into restaurants – and it's a good job they did!
Situated next to Bogatell beach, along from Barcelona's main beach, Barceloneta, Escribà serves a paella in the city, but with great seaside ambience.
The sea views are stunning and the atmosphere is everything you want in a Mediterranean restaurant – friendly and relaxed, yet professional and authentic. Go for the paella de pescado y marisco (fish and seafood paella), as you overlook the sea from which the ingredients were sourced. And don't even think about skipping dessert – it's how they made their name!
El Racó de l'Agüir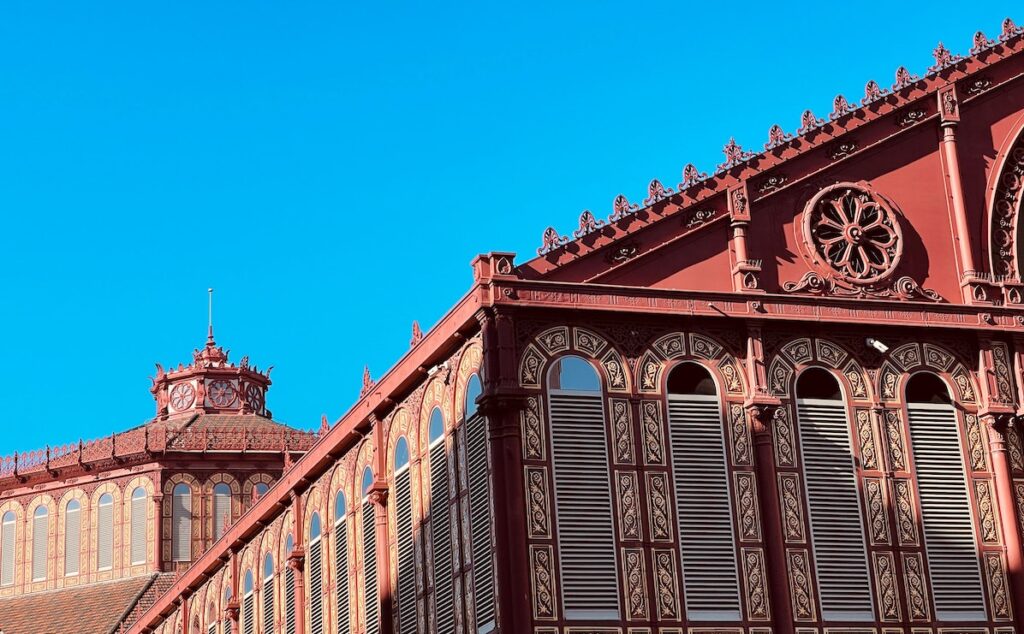 An old-school Spanish family-run restaurant that's been serving loyal clientele for twenty years, El Racó de l'Agüir does paella to perfection. Located near the famous Sant Antoni market, it's all about quality food, excellent service and a welcoming environment.
The arrós negre (black paella coloured with squid ink) is out of this world – garlic, beans, artichokes, cuttlefish and green pepper – along with their paella de marisc (seafood paella). As it's a neighbourhood restaurant outside of the the tourist zone, prices are reasonable – especially if you get the menú del día!
Viana Barcelona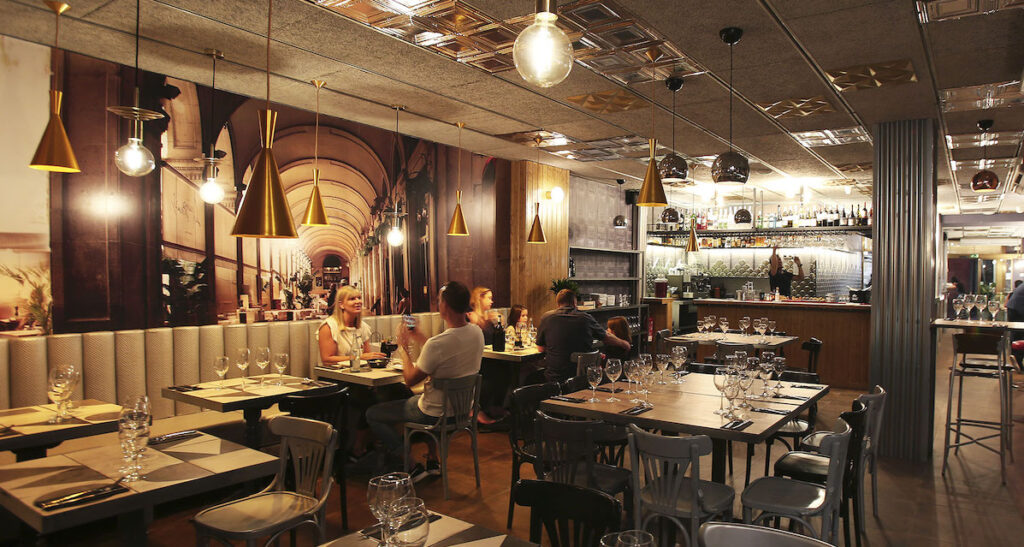 In the corner of Barcelona's Plaza Reial (royal square) of Las Ramblas, you'll find an archway. Go through this archway, and you'll come across a small Mediterranean restaurant that's making a name for itself as one of the best in the city.
Viana Barcelona serves up traditional cuisine with an inventive twist. There are so many enticing options on the menu, chief among them the paella del senyoret – the "gentleman's" paella. Come for the delicious food, then stay for the cocktails!
Casa Amàlia 1950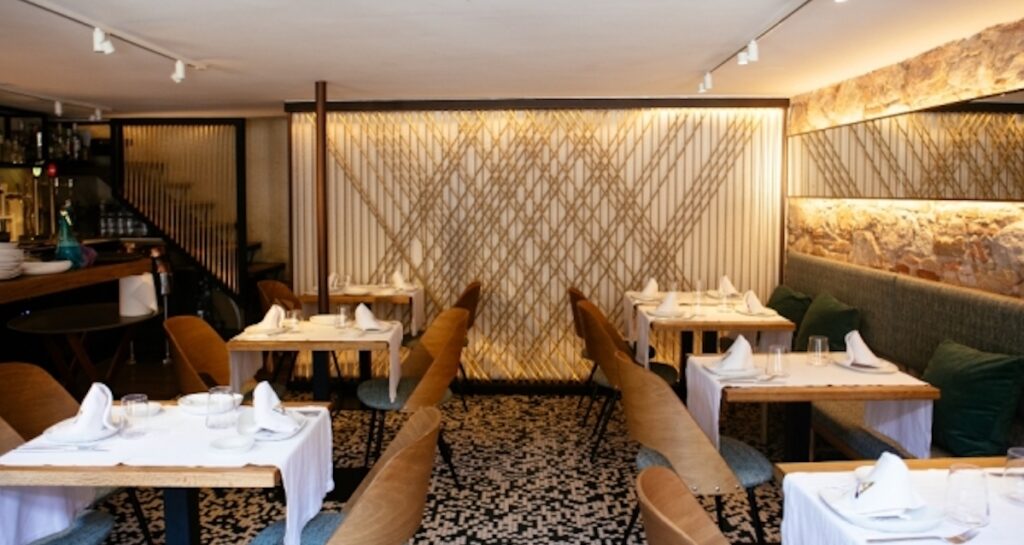 Amid the hustle and bustle of downtown Barcelona, Casa Amàlia has innovative dishes in a setting that's rustic yet contemporary. You'll find it down a quiet side street in Barcelona's Eixample Dreta district, where it borders the 19th century Concepció Market from which it sources its produce.
The original Casa Amàlia opened in 1950, serving typical Spanish dishes. But in 2020, two innovative chefs took the reins, and began creating experimental versions of old classics – such as paella!
They use fresh ingredients and the paellas are finished in a charcoal oven. Acorn fed pork loin, squid, shrimp and crayfish, or local sausage and seasonal mushrooms – whichever paella you pick, it's sure to be good!
Terrassa Martínez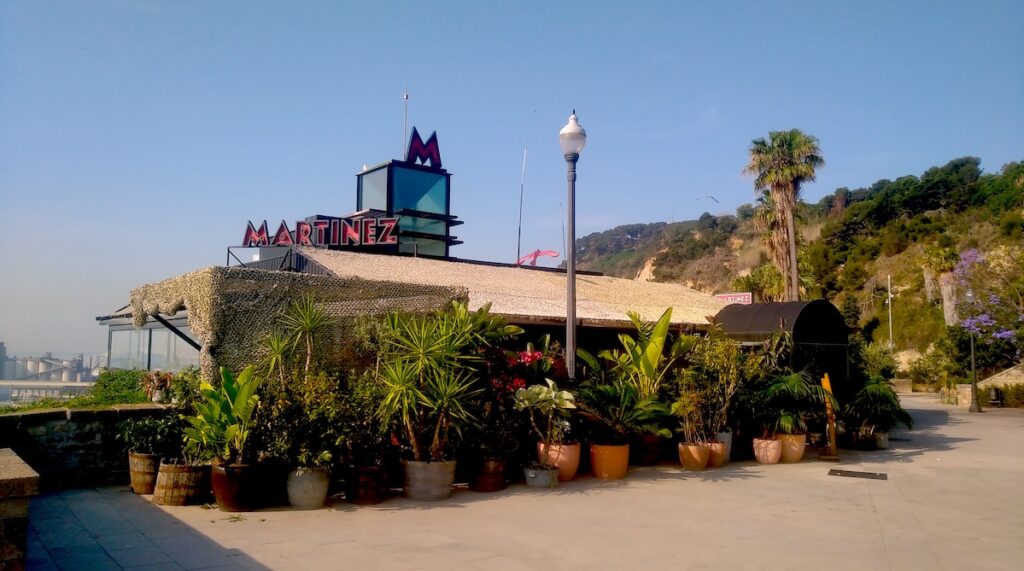 With its picturesque setting on the side of Montjüic hill, Terrassa Martínez offers genuine quality in an unbeatable location. As it overlooks the whole port, you'll probably want to order the seafood paella, but there are plenty of other options.
If the outdoor mood is a huge factor for you, a late lunch paella at Terrassa Martínez followed by a lazy early evening stroll around Montjüic is hard to beat.
Finding good paella in Barcelona: FAQs
Can you get good paella in Barcelona?
Paella is originally from Valencia – a few hours south of Barcelona – but there are plenty of places to find authentic paella in Barcelona. You'll lots of local variations on the classic Valencian dish. So look for paellas or arroces, as the Catalans call them, to find plenty of options.
Can I just turn up and get a table?
At most places, yes. But all the restaurants above are very popular! Make sure you book in advance.
What's the best day to eat paella?
You can often find a more affordable version on Thursdays as part of the menú del día. But the weekends (at lunch) are the most popular days for paella.
Can I order a single plate of paella?
Most places require a minimum of two people ordering a single dish. It's served in a large paella pan and you share between the two of you.
Can you find good paella restaurants in tourist areas?
It can be confusing to know where to go for a good paella in downtown Barcelona. So be sure to ask a local! Or find one on this list.
How can I tell if a paella restaurant should be avoided?
Steer clear of places with people standing outside telling you that they have paella. Also, if there's a photo of a paella on the menu outside, keep on walking!
Sign up to my paella cooking class in Barcelona to learn how to make your own authentic Spanish paella!