When you think of tapas in Barcelona, probably the first thing that comes to mind is not if they are plant-based tapas. However vegan tapas in Barcelona date back farther than veganism itself! So if you are following a plant-based diet, you'll find easy, authentic and tasty options for sharing tapas together.
Tapas, Tapeo, Tapear
The unwritten art of tapeo (going for tapas) in Barcelona means having a casual sharing dinner as a couple or a group. It is customary that the diners will decide between them what dishes to share. Good news for vegans everywhere, as there are plenty of fully plant-based tapas options that are available year-round in Barcelona in most establishments.
Do you want to learn how to cook vegan tapas in Barcelona? Why not take a plant-based tapas class at Savour Academy? Contact me for options. Here are the top five plant-based tapas you'll find in the city:
Pimientos de Padrón / Fried Green Peppers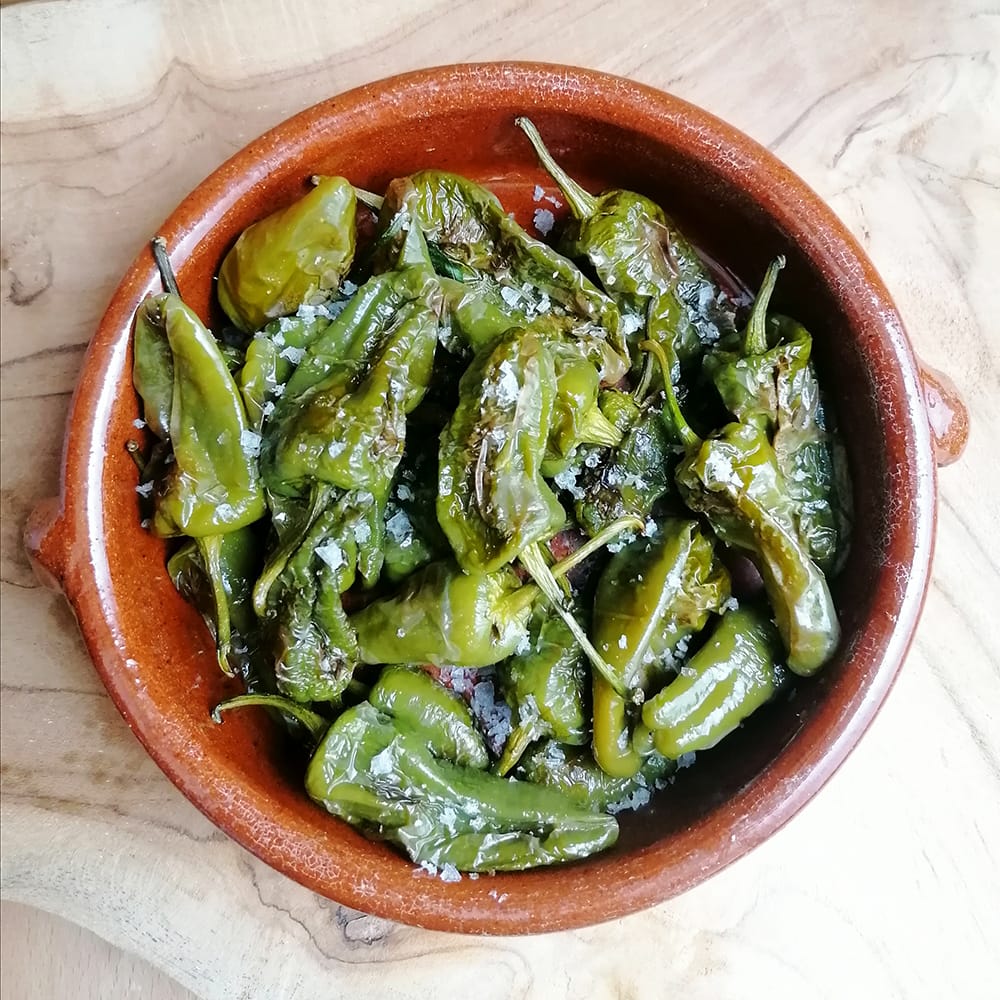 A common misconception of this plant-based tapa is that the name means "Godfather Peppers". Actually this little green pepper hails from the Padrón municipality in Galicia, so they are simply named after their source.
Pimientos de Padrón (you may see this in Catalan as Pebrots de Padró) are one of the favourite tapas you'll see on a menu in Barcelona. Seeing as they are only green peppers, fried and then sprinkled with coarse sea salt, they are an easy vegan tapa option. Even though pimientos de padrón aren't typically spicy, legend has it that there is always at least one "hot" green pepper in the dish, so beware!
Patatas Bravas / Potatoes with Spicy Sauce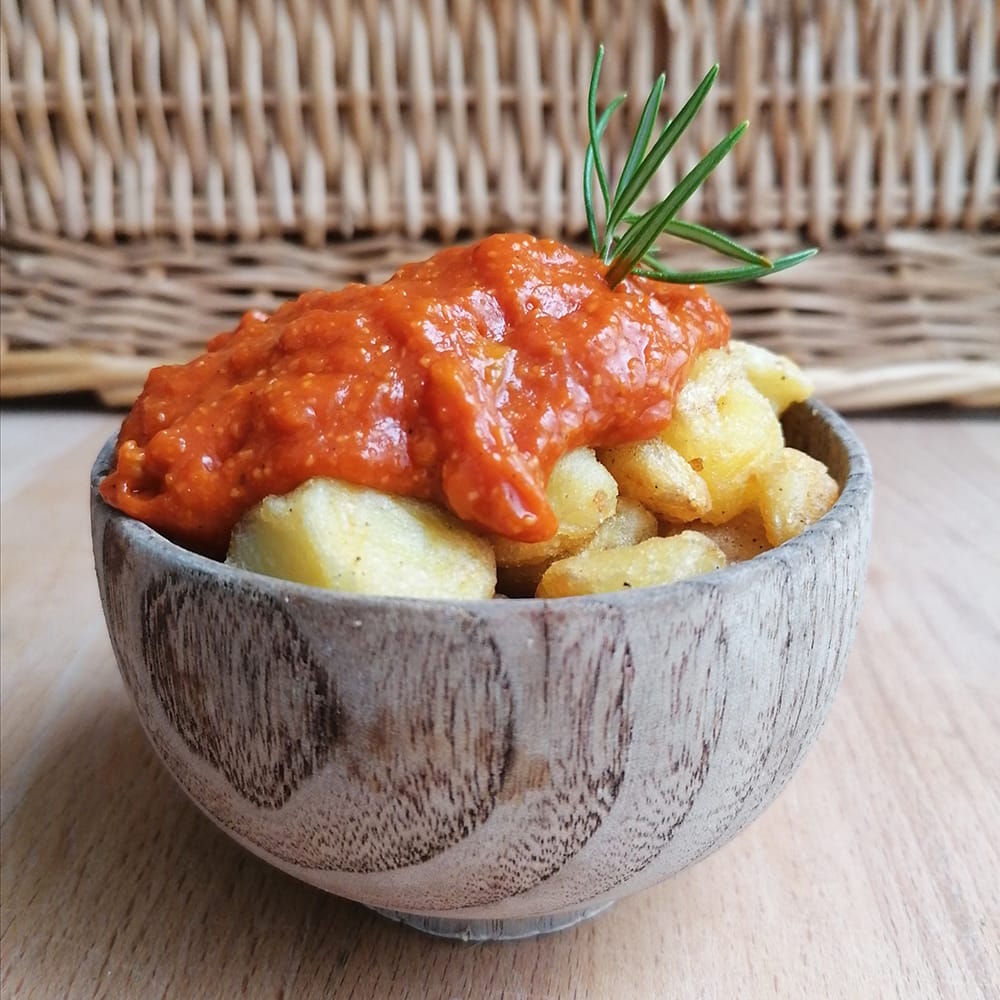 If you've been to Spain, you will have, at one point seen or tasted a plate of spicy patatas bravas on a sunny terrace. Barcelona is no exception, with patatas bravas popping up on nearly every local menu across town.
The potatoes are cut into cubes and fried to perfection, with a heaping of salsa brava sauce on top. The word bravas is said to depict the fieriness of the sauce, but if you're a real spice fan, you'll be slightly disappointed. The sauce rarely goes beyond mild-to-medium-hot, with a nonetheless charismatic blend of tomato, paprika, garlic and other ingredients. If you are vegan you should always enquire if the salsa brava is homemade and if there are any non-vegan ingredients used. Sometimes the recipe calls for beef stock, but this is easily avoided.
Pa amb Tomàquet / Bread with Tomato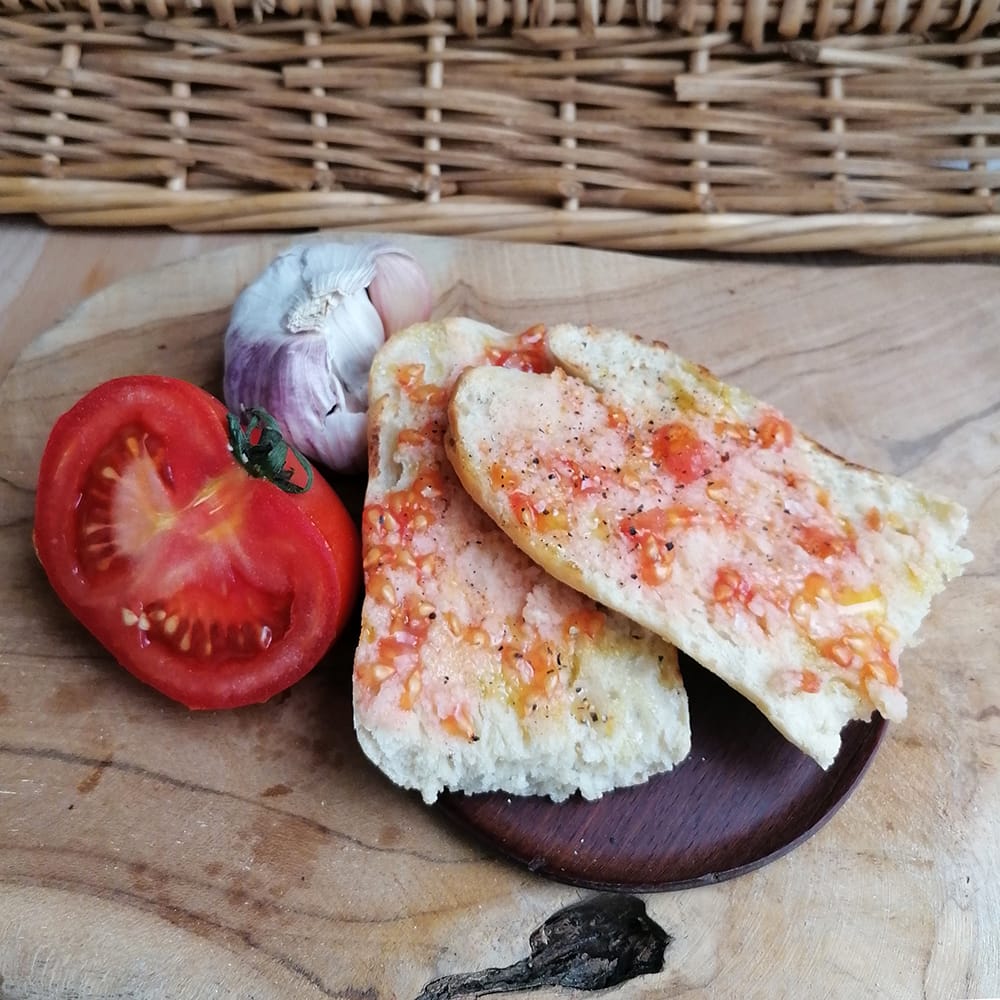 The origin of pan con tomate came as a solution to dealing with fresh produce during the hot Spanish summer. Bread that had gone hard in the heat was made softer by rubbing it with overripe tomatoes. Thus started one of Barcelona's most frequently eaten (and vegan) tapas!
Although you can use any bread really, the catalan coca is the favourite used in established tapas restaurants. This is a light bread with a slightly chewy crust, similar to the Italian foccaccia. Savoury coca bread is made from flour, water, salt and yeast. The bread is then cut into slices to elaborate pa amb tomàquet.
First, you take half a garlic clove (with the skin intact so as not to leave an aroma on your fingers) and rub it across the surface of the coca bread. Next, take half an overripe tomato and rub it into the bread. Finally you make a zigzag of extra virgin olive oil and a sprinkle of salt on top. You'll find Pa amb Tomaquet almost as a replacement to a bread basket in Barcelona. It makes a tasty tapa to share and it's fun to make at the table.
Escalivada / Smoky Roasted Vegetables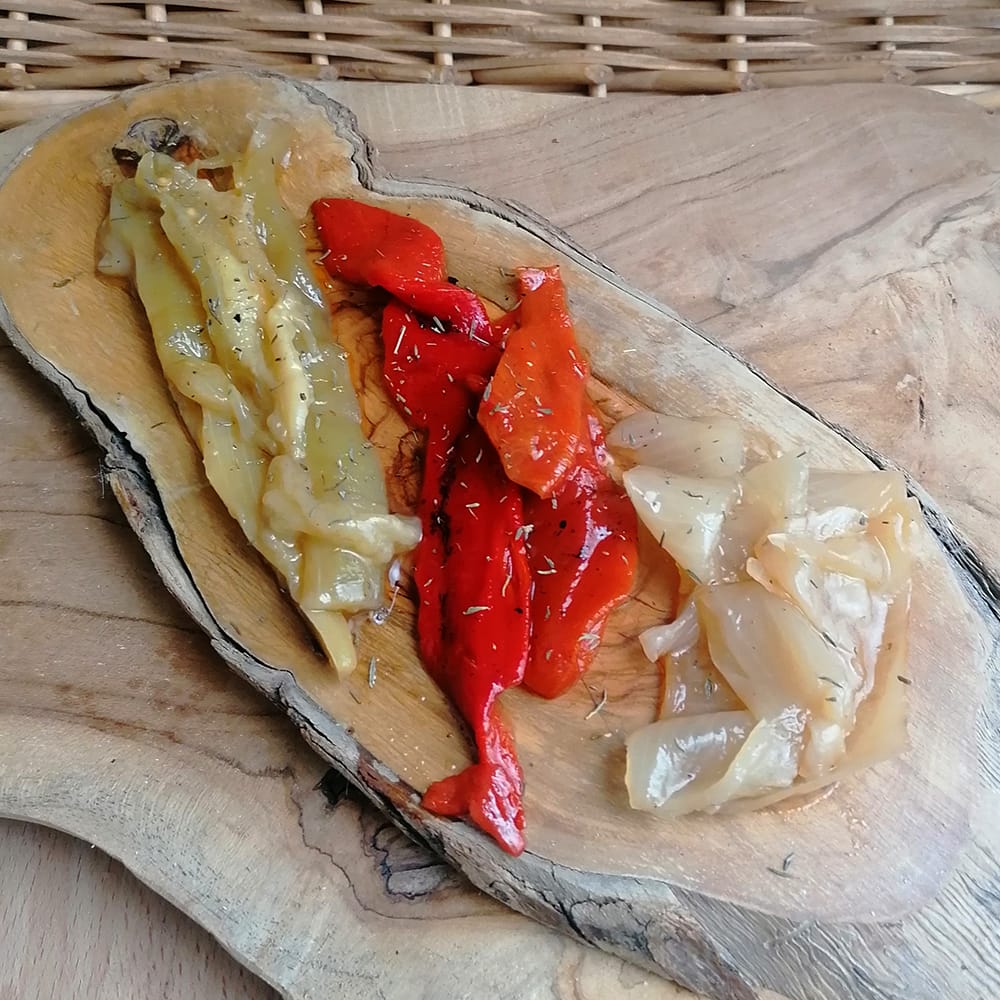 Escalivada has no easy translation as the dish is local to Catalunya and further south towards Valencia. This dish consists of roasting red pepper, aubergine, onions and tomatoes. Traditionally you cook the vegetables in hot coals to give them a distinctly smoky flavour and then remove the skins. Escalivada is served as an accompaniment on tostadas (toasted bread) or as a flavourful side dish.
As you can see, the ingredients are all vegetables, so this is a tasty vegan dish to add to any tapas selection. You can find escalivada in many tapas restaurants in Barcelona. Because they are easily preserved in olive oil, this is a year-round delicacy!
Carxofes i Romesco / Artichokes and Romesco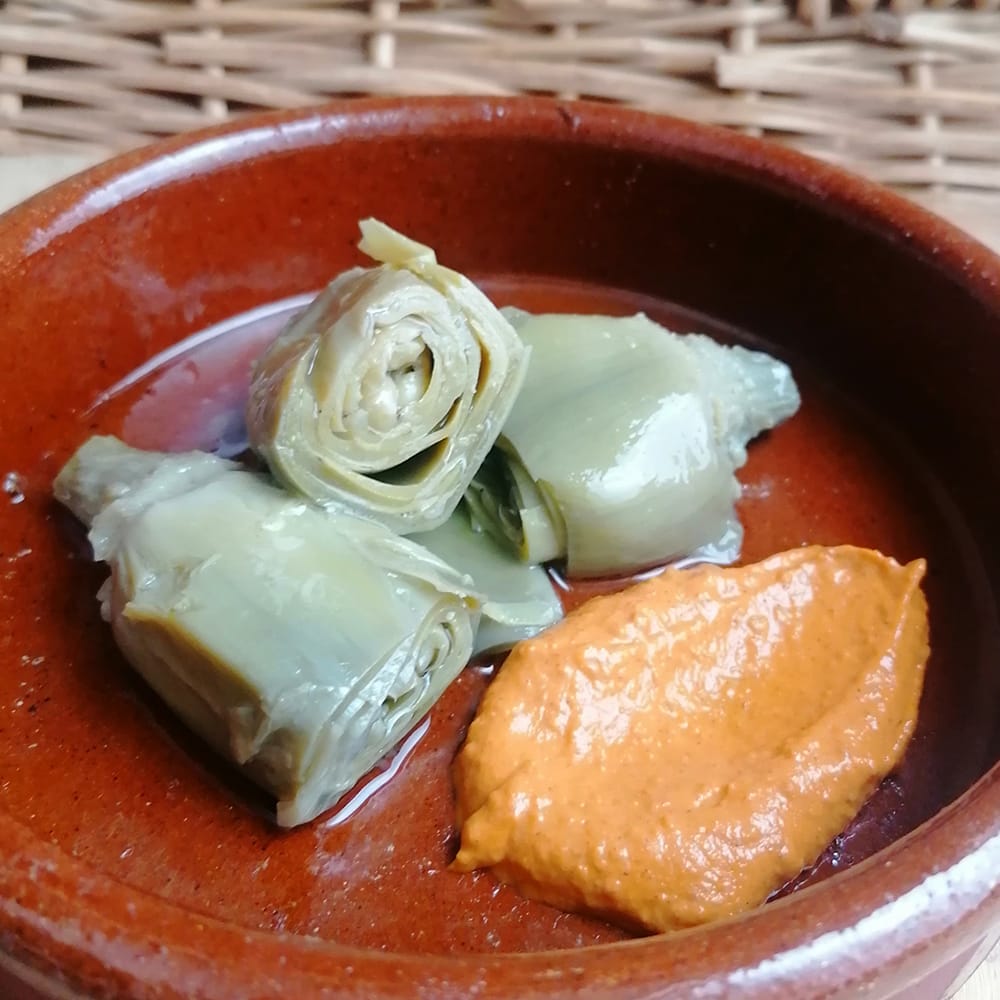 Carxofes amb romesco is best enjoyed over winter when artichokes are plentiful in Barcelona. During the colder months you'll find them grilled with a dollop of romesco. This is an amazing, naturally plant-based combination.
Even if you can't get grilled artichokes in season, Catalans love preserves in jars. So you can still find artichokes on the tapas menu.
Romesco is a staple for vegans in Barcelona, especially when it's time for a Calçotada! This sauce is made of ground roasted hazelnuts, almonds, garlic, tomatoes and red peppers. Bursting with flavour, you can also try romesco as a dipping sauce, or simply smeared onto a baked potato.
Finally, How to Pair Vegan Tapas with Wine!
This wouldn't be a Savour Academy guide if I didn't give you my wine pairing suggestions for vegan tapas. So here it is: