Did you know that some spices in cooking can help you keep cool in the heat? During our Sri Lankan Food and Wine Pairing Dinner we tried various tantalising tastes paired with local wines.
If you'd like to pair Sri Lankan dishes with wine, then maybe you'll take some inspiration from these pairings at Savour Academy.
What is Traditional Sri Lankan Food?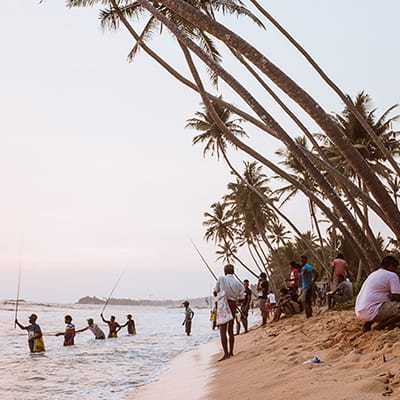 Off the southernmost tip of India, the relatively small tropical island of Sri Lanka definitely has its own culinary style. Bursting with coconut, chutney and fiery chilli, you'll find dishes to surprise the senses.
This is an island that is inspired by curry but also influenced by The Spice Routes in maritime history. So you'll find different spice combinations, along with an abundance of fish and seafood.
A traditional Sri Lankan "curry and rice" dish is comprised of boiled rice, with numerous different curried side dishes including meat or fish, pulses, nuts and vegetables.
There are also many Sri Lankan street food snacks, like fritters and pancakes served in the signature Lankan way, i.e. with pickle and spice!
Is Sri Lankan Food Spicier than Indian Food?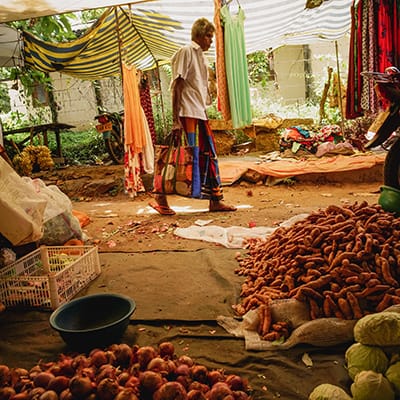 Certainly, Sri Lankan food comes with more chilli than mainland Indian food. Indeed, the varieties of chillis found in Sri Lanka are among the hottest you can find.
However if you aren't a fan of extremely spicy food, worry not. Sri Lankan food usually has a great depth of flavour (and coconut!) to level out the spice.
Thanks to its curry combination of chilli, turmeric, black pepper, curry leaves, cinnamon, cloves with fenugreek, coriander, cumin, and fennel seed, the latter half of these spices have a cooling effect on the body.
An alternative to the chilli-based curries is the black curry. This is made using black pepper for spice instead of chilli.
Pairing Spicy Food and Wine Made Easy!
With news of all these tropical flavours and notable spiciness in Sri Lankan cuisine, you may think that the food and wine pairing will be difficult. But don't worry, just follow these simple tips to help you select the right wine:
Our Sri Lankan Dishes and Wine Pairings
After a friendly meet and greet reception, our guests were seated for their Sri Lankan Food and Wine Pairing experience. Here are the dishes and their pairings. Gimi explained each dish and I explained our wine to pair: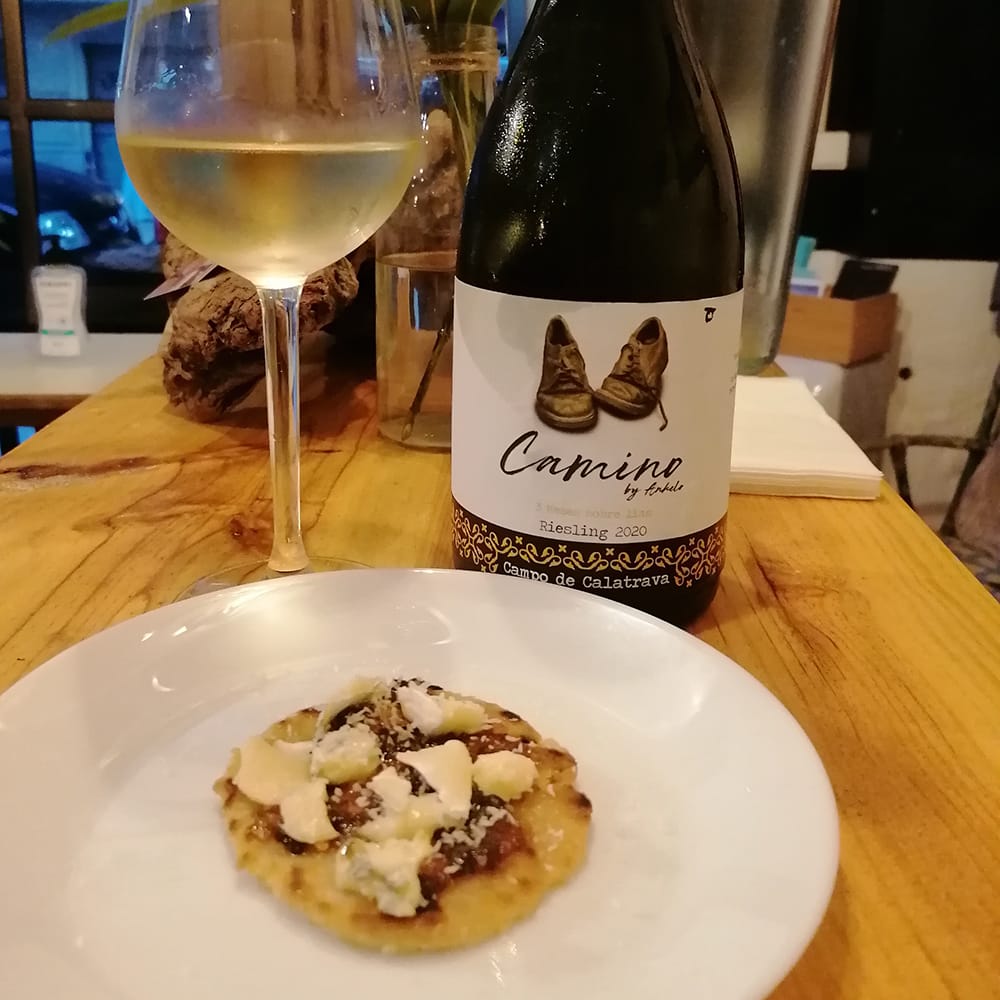 1.) Coconut Roti, Seeni Sambol & Blue Cheese / Camino Anhelo Riesling
This is a chewy and spicy coconut pancake. Gimi topped it with seeni sambol (caramelised onion relish) and less typically, with blue cheese. I wanted to balance the undertones of heat with a zingy yet medium-bodied wine. Also for me, Riesling is a great pairing with blue cheese.
Camino is a young dry Riesling from Campo de Calatrava. It is lightly carbonated with some time on the lees. You'll find aromas of peach, white flowers and fennel, with a fine citrus and mineral palate.
2.) Rice, Wambotu Moju, Kaju Maluwa, Prawn Curry, Kale Sambol / Prohom Conceptia
Such a full array of exotic taste, aroma and texture needs an equal pairing. Coconut turmeric rice, aubergine relish, cashew pea and also coconut prawn curries, kale and coconut pickle with papadums. I decided on a 70% Garnatxa with Viognier blend.
Prohom Conceptia Blanc is an organic wine with time on the lees and it really shows. Intensly aromatic, you'll get notes of honeysuckle and stone fruit. On the palate the wine has a full mouthfeel and structure, a welcoming, fruity pairing for all that coconut and spice.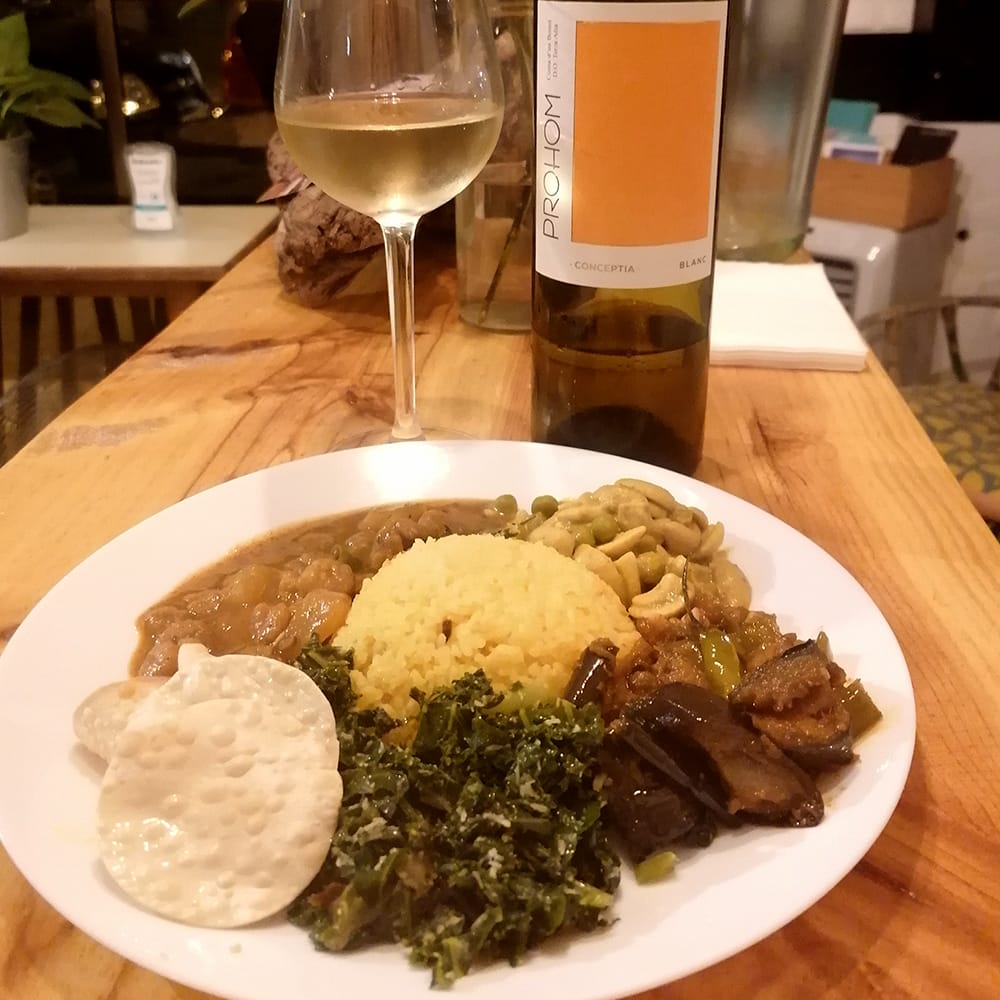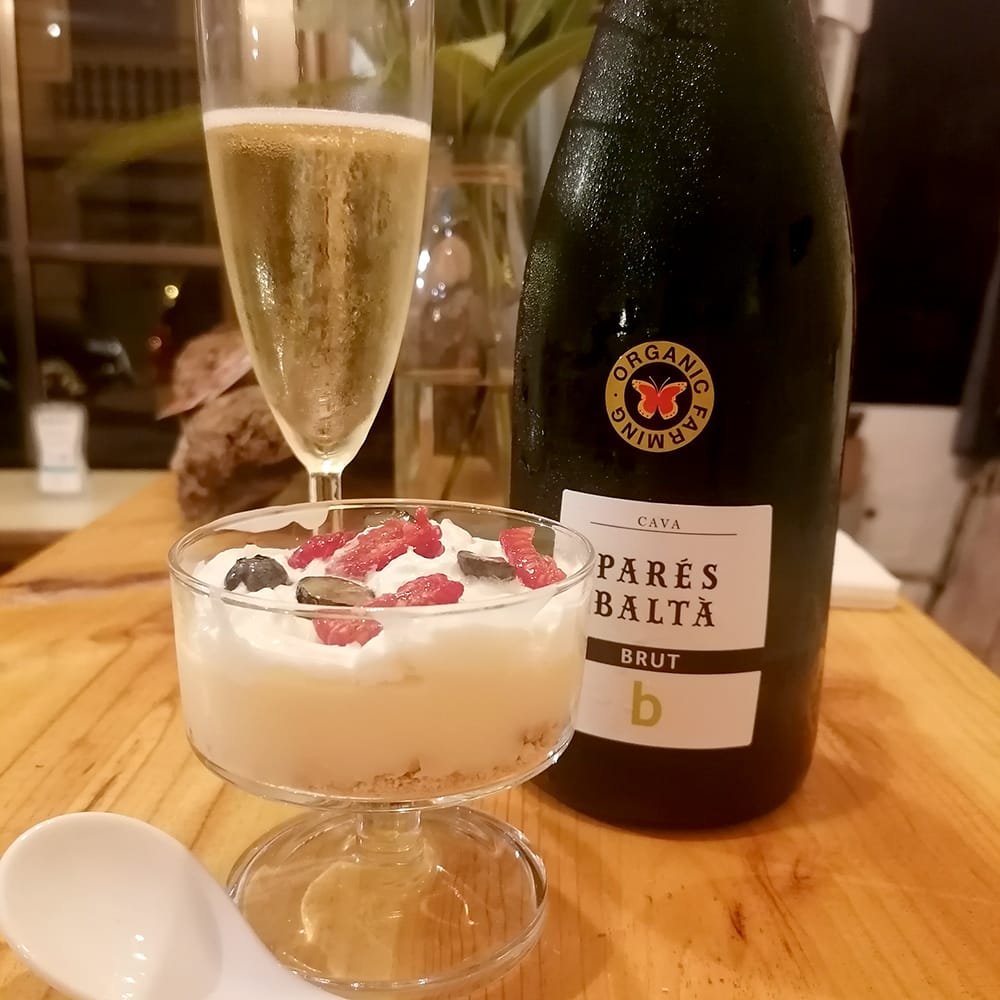 3.) Tangy Lemon Mousse & Berries / Parés Baltà Cava Brut
Gimi made one of her signature desserts to finish. A creamy lemon "deconstructed cheesecake" dessert, with crumbly biscuit base, cream and chopped fruits of the forest. I love pairing creamy desserts, and with its citrusy biscuit flavour the best choice was this fruity Parés Baltà Cava Brut.
Apple and brioche aromas and the effervescing bubbles are an excellent companion to the lemon mousse, as both balance in lightness and acidity.
We learned a lot from Gimi and each other, sharing great chat with excellent food and wines during the night. Thanks to all the guests for making this a special Sri Lankan comeback special at Savour Academy Barcelona!
If you'd like to attend the next events, please sign up for the newsletter or contact me for information on group bookings.
What would you like to savour next?