Socarrat to ya! Bespoke Paella Cooking Class
People are asking me to teach a paella cooking class, so here it is, a paella for the people! 
Do you adore Spanish soul food – I mean food for the soul that you cook from scratch? Are you interested in eating local, seasonal produce and learning about the background of this amazing culinary conquest of Spain? Then my bespoke Paella Cooking Class is for you!
Let's get it straight, the authentic paella from Valencia is for a certain, niche occasion that we will explain in detail. The advanced paellas that have evolved from this – anything from seafood marisco to surf'n'turf aka mar y montaña  or vegan – is where we are today.
In Barcelona and Spain, the world of paella is vast and I intend to show you everything I know as a specialised paella chef (Diploma from Michelin-star Hofmann Culinary School in Barcelona). Are you ready?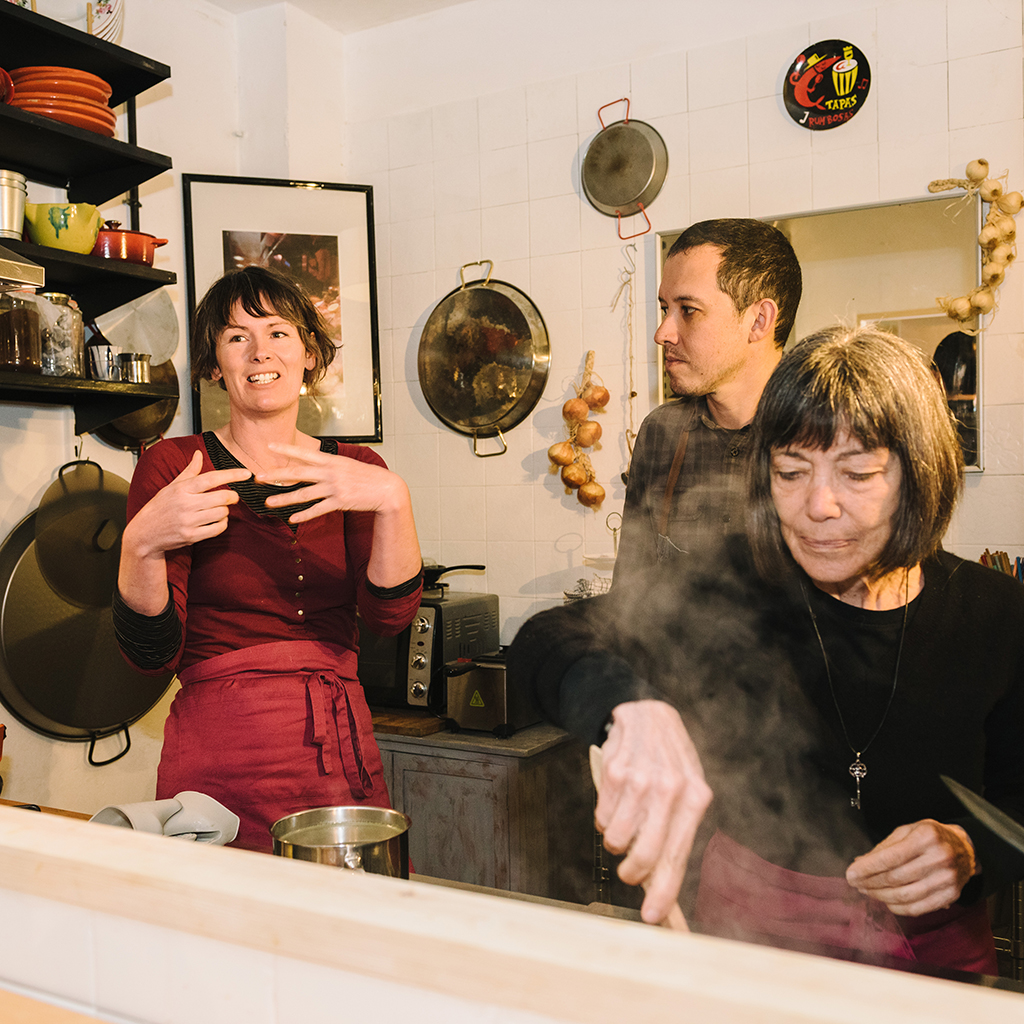 "Sorry, what's socarrat again?" Thank you for asking. It's that bit at the end of paella cooking that separates the grain from the chaff or man from beast…you get the idea. Socarrat means "to singe" but in culinary terms, it means so much more. With socarrat we get the final crunchy punch that brings our paella together.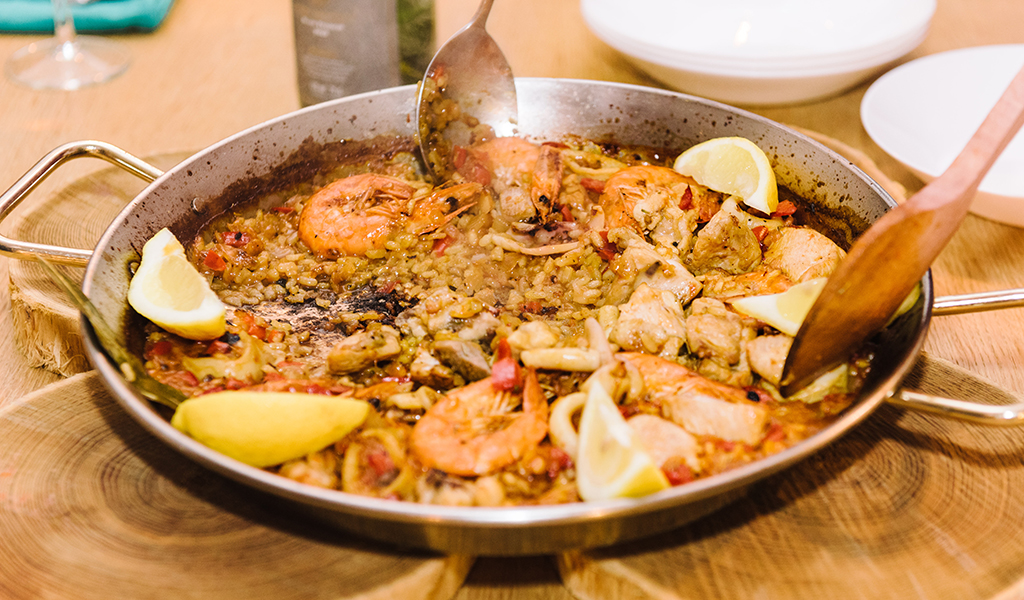 What You Can Expect From This Paella Class
Whether you know the basics of paella making or not, whether you even like cooking or not, this class is a lot of fun! I will guide you through the steps, working from scratch with our market-fresh produce (A market trip can be worked in to this class, subject to availability), we literally build a paella as a group in my Savour Academy kitchen. 
The options for what type of paella we make depend entirely on you and range from my my rock'n'roll vegan paella (I kid you not!) to a traditional Catalan surf'n'turf such as Del Senyoret or the favourite Paella de Marisco or the not-for-the-faint-of-heart Valencian paella. The paella world is your oyster, your mussel or whatever you want it to be!
I expect you to expect a fun, light-hearted class with serious food at the end of it, which we will pair, as always, with some fine local wines. Or, you can make this class into a combo and add Sangria making or Cava Sabrage…If you dare!
More Info on the Bespoke Paella Cooking Class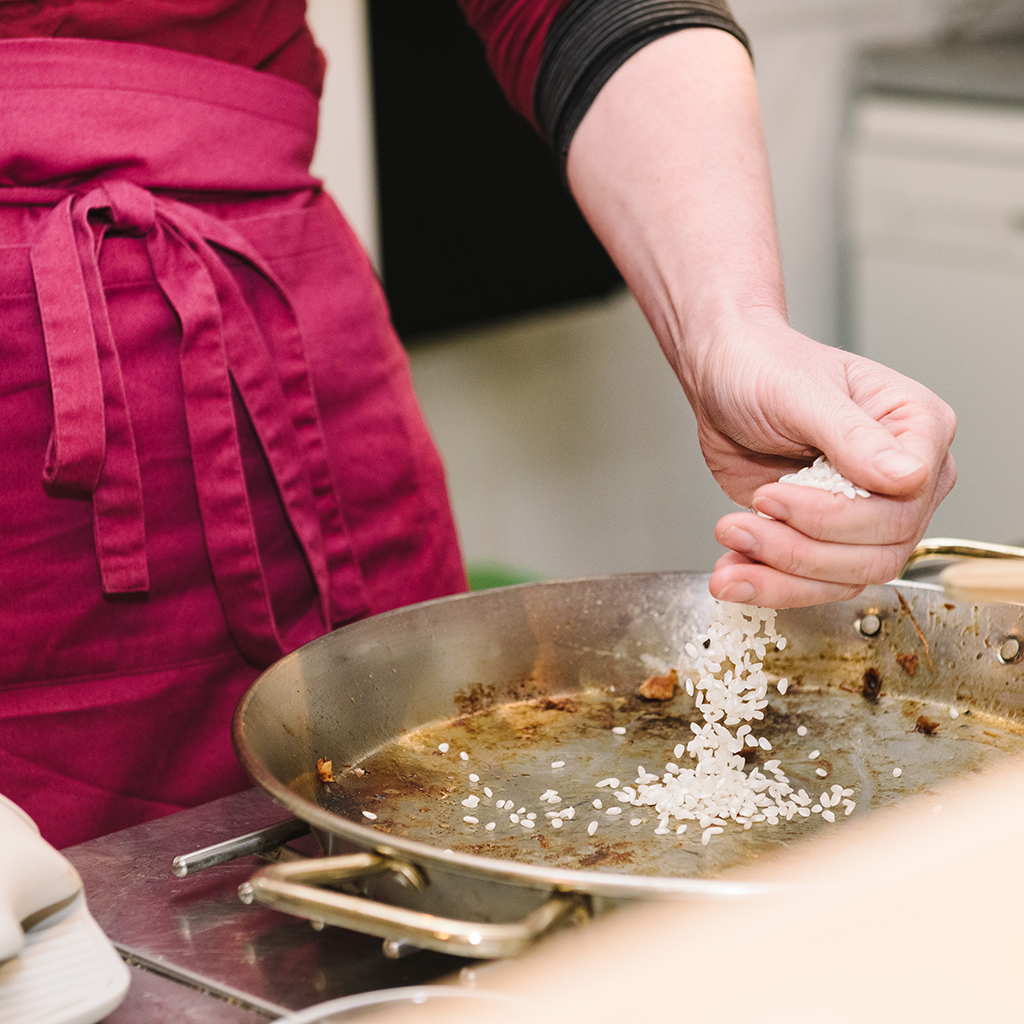 Bespoke Paella Cooking Class is available year-round with seasonal variations. Run time 3 hours approx. 
SCHEDULE: The most typical timing is lunchtime, for example 12h-15h or 13-16h, including eating time. Evening dinner class could be 18h-21h or 19h-22h, times are flexible.
COST: Pricing ranges from 69€ per person for group rates. This includes the class and materials, plus snacks and drinks while cooking, wine pairing with the meal and a small dessert. The menu is usually gluten-free by default. Please ask me about dietary requirements.
GROUP SIZE: I welcome groups ranging from two to around 10 people. For larger groups I also host at an outdoor venue in downtown Barcelona. So get in touch with your enquiry
What People Are Saying About the Paella Class
Here's what my attendees think of the class:
Amazing!!!!! (Dave E in 2021, via Tripadvisor)
What an amazing day!!! Thank you Zara for putting together such a great experience. I highly recommend Savour Academy!
Fun and Informative Experience (Minc in 2021, via Tripadvisor)
I attended with a group of friends and we had the most Amazing time! Zara was patient with us in learning to sabrage. The paella turned out fantastic! I highly recommend taking this course for a fun and informative time.
THE Most Fun Class (Joy B in 2021, via Tripadvisor)
All-around fantastic and one-of-a-kind class! Successfully added sabering cava to the list of party tricks (how many people get to say that?!) and learned how to make one of the most authentic dishes from Spain. Zara was the perfect teacher: experienced and fun!