Taste Barcelona's Wine Country
Disclaimer: I do mean that we taste Barcelona's wine country in the glass, not in the actual vineyards like we did in this photo. For that kind of thing, check my blog for ideas.
However, if you love Catalan wines and you want to learn and taste more of the divine wine scene in Barcelona, then this is the class in a glass for you!
This wine tasting class is suitable for all levels. Like any good wine connoisseur will tell you, wine knowledge is limitless and no matter what you think you know about wines, there is always room to learn more! You'll get an indepth look at the local, ecological and biodynamic wineries that are creating beautiful wines in and around Catalunya.
A Class in a Glass is available as a customisable event for private and corporate groups. It is also your best introduction to wine tasting and food pairing in Barcelona. Tell me what kind of wine you like and we can take it from there!
What You Can Expect From A Class in a Glass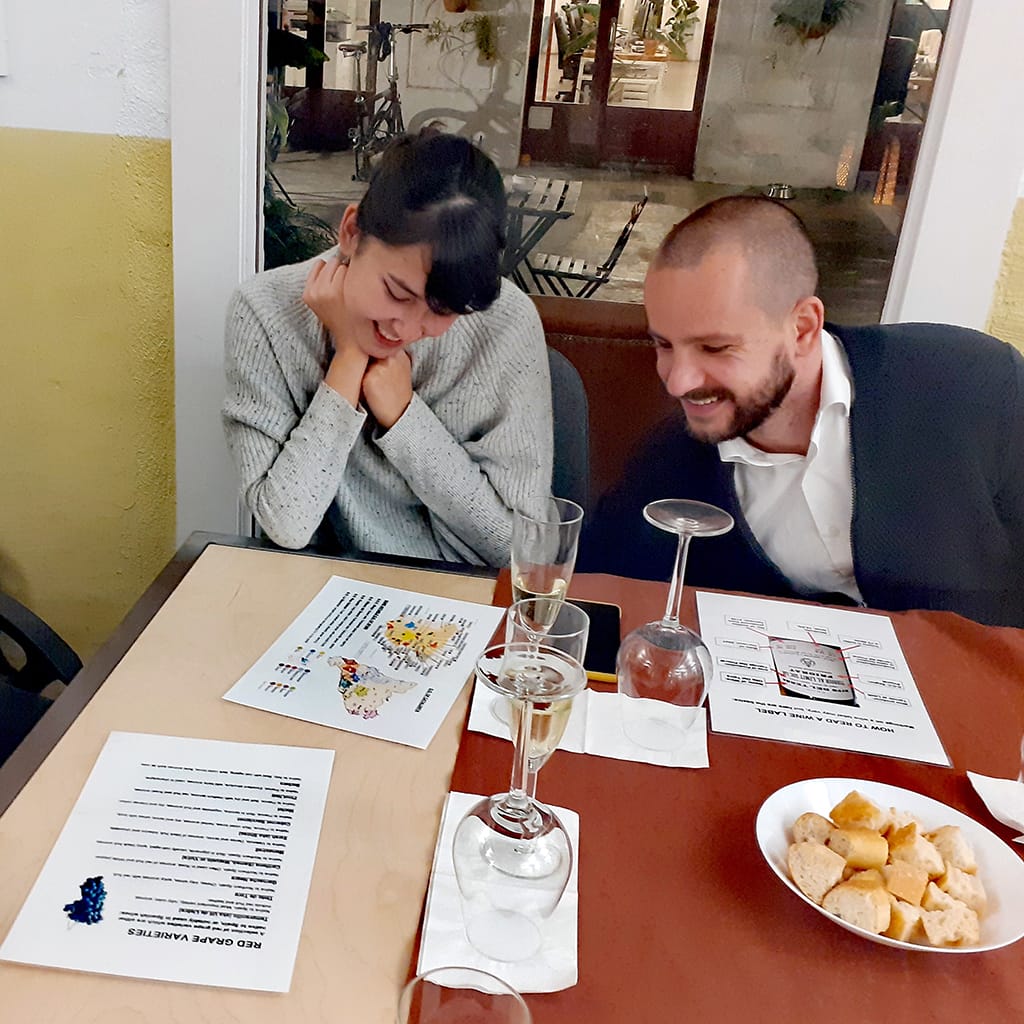 We'll start with a brief introduction on wine-making processes and how this has changed in Spain over time.
Then, I'll explain how we analyse wines and we'll do some olfactory exercise – so we blind-smell aromas found in wines.
After that, we can talk and sip our way through five delicious wines – usually cava, white wine and red wine but this depends on your preferences. 
You'll learn about the different DO growing regions surrounding Barcelona, their terroirs, the native grape varietals and what makes them so special.
We pair each wine with local, seasonal tapas, aperitivo style, and I promise you'll come away with knowledge for the next time you have to pick a wine from a menu!
More Info on A Class in A Glass
A Class in a Glass runs all through the year and the duration of the class is 2.5 hours approx.
SCHEDULE: This class is available as a lunchtime class (13.30-16h approx.), in the afternoon or as an evening tasting and pairing (20h-22.30h approx.). Timings are flexible.
COST: Pricing ranges from 49€ per person. Itinerary: 2.5hrs. You may customise the food and wines as you wish. 
GROUP SIZE: I normally host groups of around 10 people in Savour Academy, but I can host bigger groups in venues around Barcelona.
So please contact me to book A Class in a Glass!
What People Say About A Class in a Glass
Guillem C, via Googlemaps Reviews
"We did a group tasting and despite not being a big fan of wine, it was a magnificent experience. Zara, the owner, conveys her passion for wine very well. In the approx. 2 hours that the class lasts is capable of teaching you a lot. If you like wine, I definitely recommend the experience."
Rachel B, via Googlemaps Reviews
"We absolutely loved our Catalan wine tasting afternoon which was held just for us..Zara is super knowledgable and the format was perfect, informal but super informative and fun! ah could have spent all day there! delicious selection of wines and cava! highly recommended!!"
Kristen, via Airbnb Experiences
"Zara's Class in a Glass was a terrific finale to our Barcelona stay! We really enjoyed learning more about winemaking and Catalan wine varietals—she had helpful materials to look at too (good for me as a visual learner). I learned to look at the color and body of wine and taste more thoughtfully. We loved the wines we tried and the snacks provided were tasty, too!"